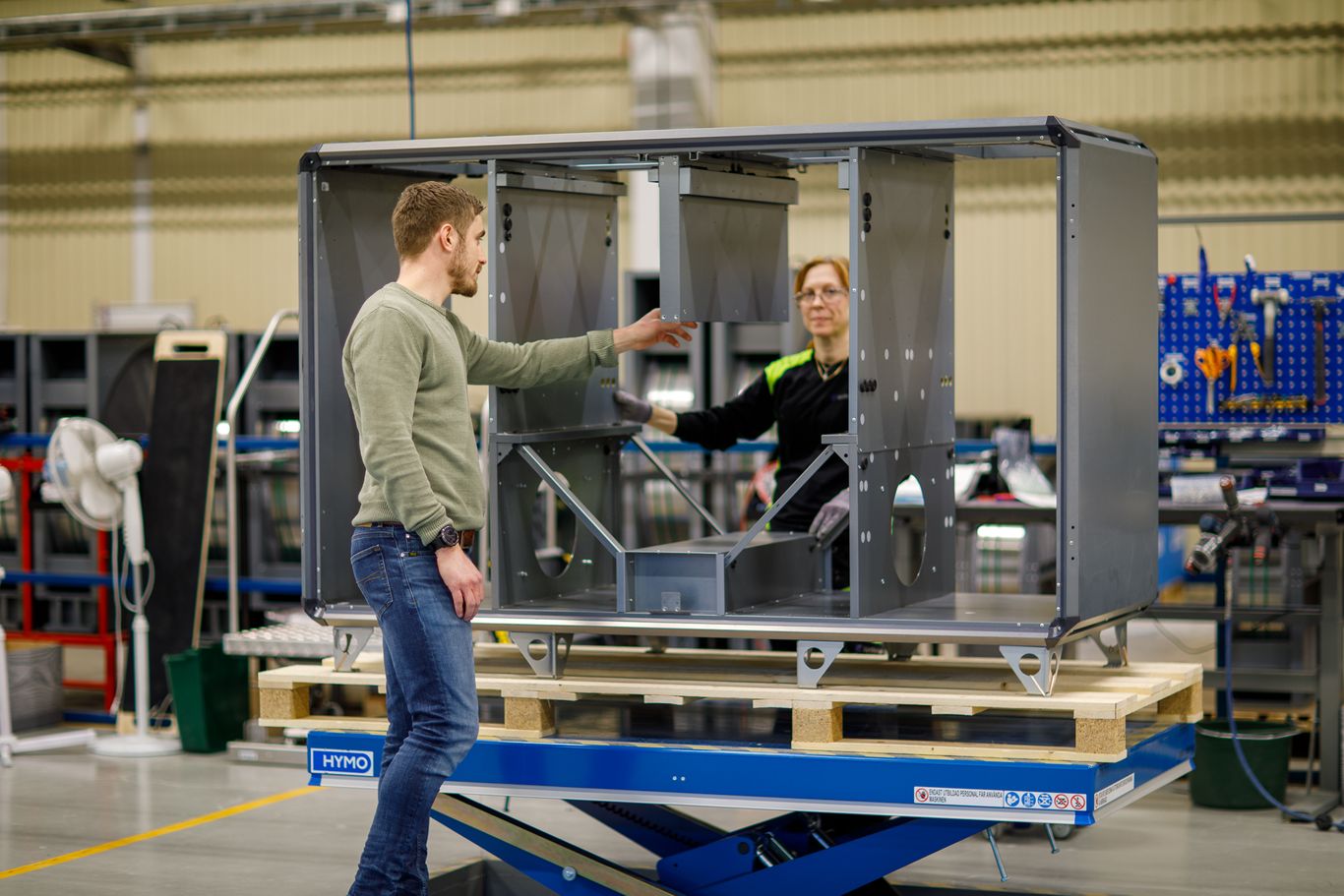 Systemair's business involves risks that to a varying extent may adversely affect the Group. These risks may in the short and the long term affect the company's ability to attain set goals according to the company's business plan.
Systemair operates a risk management process that involves management and key functions to ensure that risks are properly managed. The process follows an established approach where risks are first identified and then assessed. The assessment is based on probability and potential impact to judge the level of risk for the Group. Depending on the level of risk, the risk management process is conducted to mitigate and monitor the risk.
The risks below are selected based mainly on assessments revealing medium and high level risks; they do not reflect Systemair's overall risk situation. The level of risk is assessed
over a 12-month horizon.
Systemair is preparing for future disclosure of climate-related risks and opportunities under the Taskforce on Climate-related Financial Disclosure (TCFD).
Strategic and market risks
Market and macroeconomic trends
The risk of negative macroeconomic developments and deterioration in the general economy. For example, contraction in new building due to higher interest rates, performance of stock market, effects of the pandemic, political decisions and the like.
Continued investments in products for the renovation market, which is expected to grow in importance as a result of energy conservation programmes. Consequences of the pandemic are subject to continuous monitoring and processes for price adjustments are implemented.
Trade policy and geopolitics
The risk of negative trade policy decisions, customs duties and sanctions. Systemair operates in a global market where geopolitical risks can adversely affect its business.
Systemair has established processes to evaluate and effectively manage geopolitical developments. In the longer term, Systemair takes an active role in most industry organisations in the areas where the company is established, in order to obtain information
early and influence decisions.
Competition
The risk of lower sales and margins due to increased price competition from manufacturers
in low-cost countries moving closer to Systemair's main market.
Systemair's sales and product strategy is based on an upper-middle market position, where products, solutions and local market support add value to the overall customer process. Products and solutions are constantly evolving to create value where it makes a difference.
Sustainability
The risk that Systemair's sustainability performance does not meet external expectations for
set targets, or current and future expectations and legal requirements.
Systemair's sustainability strategy has been developed with stakeholder priorities in mind. In addition, priorities are kept updated through ongoing dialogue. Governance and monitoring of sustainability work improved during the year and will continue to evolve going forward.
Product availability
The risk of material and component shortages for the products. The pandemic and other events has left its mark on the global supply chain and some components and materials have significantly extended delivery times.
Systemair works actively to minimise the effects of material and component shortages. This work will continue and the strategy for key components and materials will be reviewed to ensure availability.
Production facilities
The risk of serious damage to Systemair's production facilities in the event, for example, of a natural disaster, fire or leakage.
Insurance cover and disaster plans, including crisis management plan, drills and communication plan are updated annually. Fire protection is assessed and upgraded on an ongoing basis.
IT infrastructure
The risk of serious disruption to the Group's IT systems. Disruptions to critical systems can
have a major impact on day-to-day operations.
Continuous improvements to processes and systems for increased operating reliability. In recent years, Systemair has made major investments in upgrading IT systems. IT Systems are regularly reviewed by in-house personnel and external auditors and consultants.
Product liability
The risk that existing and newly developed products do not meet requirements and specified quality, performance and safety levels. The risk of a disconnect between production, product development and innovation strategies.
Systemair tests and quality assures all its products. The company maintains global product liability insurance for SEK 200 million. During the year, Systemair has recently implemented organisational changes that strengthen the link between production and product development, and common information systems have been developed to facilitate information sharing.
Foreign exchange risk – transaction exposure
Major transactions take place in currencies such as EUR, which represents a currency exposure.
Currency hedging is normally arranged for around 50 percent of the EUR/SEK exposure.
Foreign exchange risk – translation exposure

Foreign assets and liabilities are translated to Swedish kronor on consolidation.


Major investments are often financed via borrowing in the same currency.
Borrowing and interest rate risk

The risk that sharply changing conditions in the company's market may create problems in raising new loans. Significantly lower interest rates may result in poorer earnings for the Group.
Financial risk management is discussed regularly by the audit committee and the Board. Financing in the Group has for the most part been centralised within the Parent Company.
Credit and liquidity risk
The risk that a customer will be unable to fulfil his payment obligations.
Strict credit policies are applied and there is no major concentration of credit risk. Systemair works actively on improving routines and processes for creditworthiness assessment.
Business combinations
In the case of acquisitions, a risk is attached to the valuation of the targets relative to the object selected. Integrating acquired businesses can be a complex and demanding process.
There is no guarantee that an acquisition will be successful, even if Systemair has long experience in the field. Annual impairment tests are applied to acquired goodwill. If the carrying amounts are not considered justified in such tests, an impairment loss may be recognised, which affects the Group's results.
Regulatory and business ethics risks
Labour and human rights
The risk of violation of labour or human rights. In some countries where Systemair operates,
there is a generally higher risk of violation of these rights.
Systemair focuses actively on its responsibility for ethical business via, for example, training and communicating its Code of Conduct. In countries where there is a generally higher risk of violations, an enlarged programme is planned on ensuring the correct conditions.
Corruption
The risk of corruption or bribery. Systemair operates in the construction industry in a global context where in some countries the risk of corruption is considered high.
Systemair focuses actively on its responsibility for ethical business via, for example, training and communicating its Code of Conduct and related specific policy on anti-corruption.
Trade restrictions
The risk of inadvertently breaching trade restrictions because internal systems are not kept
updated with current information on specific restrictions.
Systemair continuosly increases its resources to ensure that it is best able to have up-to-date systems with the terms and conditions for the products it sells.