Energy recovery to mitigate climate change
Reduced CO2 emissions and lower costs when energy is recovered
A considerable part of the total carbon dioxide emissions comes from buildings, where production of electricity and heating is attributable to a large part of it. Calculations show that 40 percent of the total emissions can be directly or indirectly linked to buildings. That means that if the energy demand in buildings can be reduced, then the global CO2 emissions also will be reduced. In combination with lower cost, this is a win-win.
There are more than 30 million properties in Europe that need to be renovated for better energy efficiency and by that contribute to the global climate goals. Systemair´s engineers are working daily to develop increasingly efficient air handling products and solutions. Many of which have an energy recovering function, where energy in the form of heat (or cold) is taken care of and reused in a cycle. This drastically reduces the overall demand for additional heating or cooling. The estimated contribution of all Systemair´s products is 1,9 TWh of lower energy demand annually. It corresponds to more than 500 000 tons of avoided CO2 emissions, equal to emissions from 280 000 cars every year.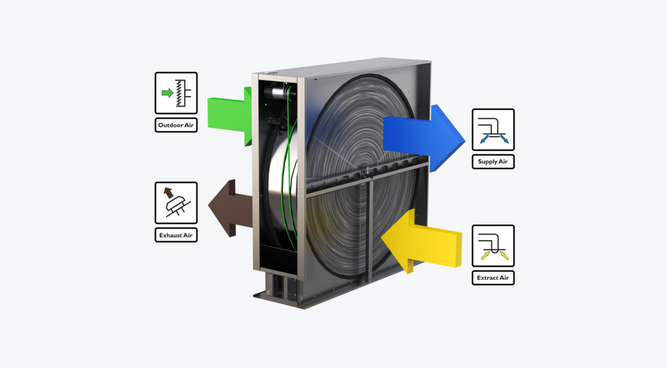 How it works
An air handling unit brings fresh outdoor air into a building at the same time as it ventilates the heated indoor air out from the building. The principle is to not just let the warm air out without recovering the heat in it. The cold outdoor supply air is heated with a heat exchanger that warms cold supply air with the heat from the buildings exhaust air when it is ventilated out. In the cold season you recover the heat from the building to heat the supply air, in the warmer season the opposite logic applies, you use the unit to cool the supply air and building in an energy-efficient way.
The air handling units from Systemair can be equipped with rotating heat exchangers, upstream or cross stream exchangers or even liquid connected heat exchangers. For additional heating of supply air you can choose water heating batteries or electric heating and/or cooling batteries. With an advanced control system you can quickly and easily monitor and further optimize the indoor climate. The control system can be used for so called demand controlled ventilation, meaning the ventilation automatically adapts to the conditions of the monitored space. The air flow decreases when nobody is at home or in the office and increases when it is needed. All the energy in a ventilation system cannot be recovered, but Systemair has products that can recover all the way up to 92 % of the energy from ventilation. Modern ventilation systems are generally very energy-efficient.
In this way an energy-efficient, modern ventilation system with heat exchangers and demand controlled ventilation can drastically reduce the energy demand from buildings and thus also CO2 emissions.